Watch Video
The ruling All Progressives Congress Presidential Candidate, Asiwaju Bola Ahmed Tinubu, on Tuesday took the last lap of his presidential campaign to his Lagos power base, where he received a triumphant welcome right from the airport in a motorcade from Ikeja all through to Surulere at a packed Teslim Balogun stadium on Tuesday.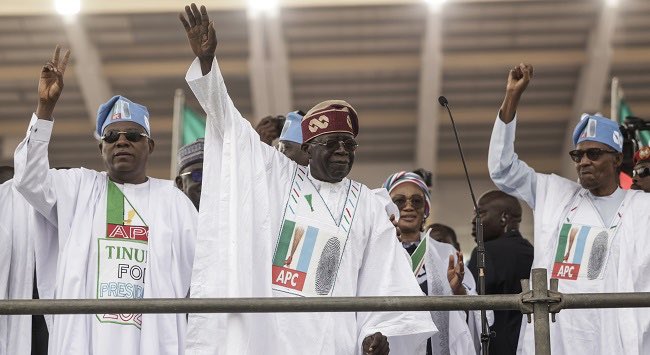 Thousands gathered inside the Teslim Balogun sports complex in the city centre, providing a raucous climax to Tinubu's nationwide road tour four days before Election Day.
Tinubu, 70, a former two-term Lagos governor and candidate of the APC, is a top contender of three frontrunners in an unprecedented race to succeed President Muhammadu Buhari.
More than 93 million Nigerians are registered to vote in Saturday's election, with their country struggling with growing insecurity and a stumbling economy.
Dubbed the "Godfather of Lagos" for the political influence he wields, Tinubu says his two terms from 1999 to 2007 as Lagos governor give him the experience Nigeria needs.
"I will vote for my father. He is really a father for all of us," said Motunrato Amuda, 29, a caterer wearing a garment in APC's green, blue and red.
A crowd of party supporters ferried in buses arrived at the venue in the morning, singing, dancing and waving the party flags as Afrobeats musicians performed.
Tinubu's Lagos tenure was credited by many for rapid growth in infrastructure projects, urbanisation and high internally-generated revenues.
His influence looms large in Lagos state, where he had a hand in choosing his successors and other key appointees since he left office since 2007.