FACING FACTS with 'Tayo Aderinola: An exclusive interview with the Managing Director /CEO Lagos Waste Management Authority (LAWMA), Mr. Ibrahim Adejuwon Odumboni
Yours sincerely recently on the Lagos Panorama's Facing Facts, engaged the Managing Director and Chief Executive Officer of the Lagos Waste Management Authority (LAWMA), Mr. Ibrahim Adejuwon Odumboni, in an exclusive interview with an overview of the sustainable development achievements of the waste management agency in line with the THEMES Agenda of the Lagos State Governor, Mr. Babajide Olusola Sanwo-Olu.
The amiable, hardworking and soft-spoken Mr. Odumboni, who was also awarded with the 'Lagos Panorama SDG Distinguished Waste Management Award', was appointed by the governor in August 2020, after successfully serving as the Executive Director, Business Development of the agency, in which capacity he was deeply involved in the rebirth of the Waste Management Conglomerate.
Read and enjoy an excerpt from the interview conducted on Monday 21st June, 2021 at the LAWMA Lagos East office, Sura, Lagos Island:
LAGOS PANORAMA: For the benefits of our wide readership, please introduce yourself?
Ibrahim Odumboni: My name is Ibrahim Adejuwon Odumboni, the Managing Director, Lagos Waste Management Authority, LAWMA.
What's the average waste generated in Lagos per day and how much is LAWMA able to disposed on a daily basis?
Odumboni: We are still on an ongoing research to ascertain the exact amount we generate, it's currently estimated that we generate in the excess of 13,000 metric tons of waste on a daily basis, and I am glad to say that LAWMA intercepts nothing less than 75 percent of that at the moment.
What are the major challenges you've encountered since you resumed Office and how were you able to manage it?
Odumboni: The key thing is when you say challenges in terms of waste management, I would call it opportunities, there have been different opportunities that we have over time and we've been able to come around them by thinking in much more positive and proactive way. So, LAWMA having been transformed to a proactive agency, rather than a reactive agency, we think ahead, for whatever people call challenge, we see it as an opportunity and find out way we can optimize opportunities and at the same time create sustainability in what we do.
We've created a Sustainability Officer and a Change Manager role in LAWMA. So, these are the things that have been able to help us navigate through the terrain we have passed through over the period of time. In terms of waste management, we also have challenges that has to do with environmental challenge, in terms of weather constrain but the good news is that our proactiveness has really helped us over the couple of years in doing what we do best. So being proactive, sustainability at the act of everything we do and the good support from the executive arm of Lagos State, our biggest fan is the governor of Lagos State, Mr. Babajide Sanwo-Olu, he has being very supportive to everything we do, he is not only our number one incident person when it comes to waste management in the state, but also as the key sponsor and innovator as well, more often times he point our attention to some developmental and innovative ideas, he usually challenge us to do research on some things and a lot of knowledge we've had in that regard has being phenomenal. We also have a seasoned Commissioner of the Environment, who is an environmentalist, Mr. Tunji Bello, he's being helping us from time to time to achieve our desired goal. So, all in all, I believe I have a solid foundation and background, with the support of Mr. Governor, Mr. Babajide Sanwo-Olu, the Commissioner of the Environment, Mr. Tunji Bello, with all the staff of the ministry of the Environment and all the wonderful scientific officers and staff I met in LAWMA and the supports from residents as well, so is just for us to put all the human-resource together to achieve a common goal for Lagosians which is cleaner Lagos and sustaining a cleaner Lagos for the benefit of all.
Issue of cart pushers call for serious concern, it's becoming a menace, as major manholes cover on Lagos roads have been removed suspected by them, hence exposing motorists if not careful while driving to danger, what's LAWMA doing to check their activities?
What we are doing right now is to start engaging them, so now we have Lagos Recyclers Association, which is borne out of the need for us to take recycling to the next level. Governor Babajide Sanwo-Olu, on the 5th of September 2019, started the separation of waste from source initiative, through the Blue-Box Scheme that has now gone to what we call Lagos Recycles.
So, at the moment, through the Lagos Recycle, what we've done is to engage all the stakeholders in the recycling sector, to understand what their needs are and to also enlighten and regulate their activities, LAWMA's role is to regulate them. So, as cart pushers or pickers or recycling handlers, it is very important everyone is regulated. We can't have a situation where we have an anarchy, where people are doing different things, because you're looking for scrap metals, you're taking manhole covers for recycling, it's not nice, it's not really good. So, we've now extended invitation to them through the Lagos Recycle, led by their umbrella body coming, then we can start to regulate them.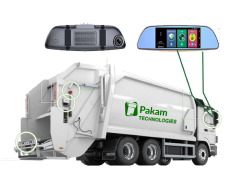 We are also in partnership with the Lagos State Employment Trust Fund, for us to design an awareness programme for them, so that we can have a much more regulated atmosphere in Lagos waste management generally.
For the cart-pushers, Lagos is not going to leave anybody behind. We are going to carry everybody along. We are going to do it within the environmental laws of the state.
Waste to wealth should be a sustainable development in waste management in a smart city like Lagos, what's LAWMA doing vis-à-vis exploring these inherent opportunities?
A lot of things are being done by LAWMA with regard to waste to wealth. Waste to wealth can be classified in different ways, but we are doing it in more of a bespoke way, ways that are easier for our people to understand, it's very important that we simplify waste to wealth for the people. We have various recyclers or engagers from waste to wealth that will be able to help people to be able to turn waste to resource, we see these wastes as resource, some of the waste can be burn to create electricity, plastic waste can be gathered and sold for money to pay bills such as school fees, we have people that live on this and have people with testimony of how they used the money they made from waste they gathered to buy land, car and run their day-to-day live. So, waste to wealth will continue to grow. Capacity building for all people in the sector is priority to us at LAWMA, take for example our PSP, we've seen the growth in their wealth, we've seen the growth in their number, from about 325 of them now to 437 that's a huge amount of growth, from having a 4,000 work-force to over 8,500 labour force now, that's a growth as well, having 5 recyclers as at May 2020 and now we have 47 recyclers, so it's a phenomenal growth.
All of these attributed to the fact that our governor is very innovative, he wants a smart-city, we have also introduced technology to all what we do in waste management. The way we monitor, the way we gather our plastics, for example, I hope you've heard of Pakam App (Recycling App), it's like an uber app, you can download it from google for android or iOS for apple users, so at any time you need your recyclables like plastic to be taking for financial reward or vouchers, you can just request for collection and your nearest aggregator recycler will quickly come to you to collect, a lot is being done in that regard.
And also, the other side of waste to energy, we've a lot proponents that have approached us, in the last one year we have over 72 proponents that have approached us, to discuss about waste to energy. You know Lagos is surrounded by water, high water table, we need to find the right option to adopt, so we are currently looking at all the options that we have, I am sure before the end of the year an MOU will be signed on one of option we want to explore. So, the future is very bright for the state in terms of waste management.
The Governor Babajide Sanwo-Olu's THEMES Agenda is now two years ongoing, while you resumed office as MD/CEO LAWMA about a year ago, how much have you key into the THEMES agenda to achieve result?
For us the environment falls under the E of the THEMES Agenda, where we play our own part, and it is said that cleanliness is next to Godliness. LAWMA as a whole, we act as the midfielder in the field of play for the THEMES, we need to make sure the midfield is solid, so we don't concede goals and also make sure the team advance forward to score vital goals. I believe we have done well in our midfield role of the THEMES Agenda, providing the required support for the defense, coming from a team that leak goals anyhow, now the defense is solid, also providing the required assistant to the attack to score goals. Lagos is now clean and we are doubling our effort to sustain the cleanliness. There have been a lot of capital investment into LAWMA and waste management as a whole by this current administration. We have three transfer loading stations currently being built as we speak. We are expecting about 102 new fleet of trucks, these are brand new trucks, that would last us years to come. It will give us a very strong backbone to build on.
Looking at the THEMES Agenda, you'll agree that we've done fantastically well and hope to keep improving. We support lot of other parts of the agenda. I believe as a critical service provider; we always pride ourselves to do more. What we've done historically doesn't count with what we do now, in waste management, every other day is a new day. So, it's very important that we are consistent.
What's your vision for LAWMA in another 2 years?
My vision for LAWMA is to rejuvenate LAWMA to a world class waste management organization that befits a smart city and to achieve the waste to energy scheme. So as to help solve one of our biggest problem of electricity supply to our people.
Secondly, have a consistently clean environment and a better staff welfare package where we see people love their job, waste management job is job for the elite and everyone must be proud for working for LAWMA. I am very glad when hear my staff proudly say 'I work for LAWMA'.
Job security is key, we have over 47,000 formal and informal staff that work for this agency, that's to tell you how strategic and important the agency is to the state. So most importantly, between now and very few years to come, our vision 2030 is what legacies do we want to leave for generation to come, so we have to build a very solid foundation for the coming generation.
LAWMA should continue to be more of a regulator than becoming a participant, to be proactive rather than being reactive organization. To continue to provide enabling environment for all stakeholders that want the best for Lagos as a smart city. To support private sector participants to prosper. Under the current leadership of the state, Mr. Babajide Sanwo-Olu, the Honourable Commissioner for the Environment, Mr. Tunji Bello and my humble self as the MD of LAWMA hope to make the agency a world-class waste management agency for a smart city like ours.
On a final note, the remuneration of LAWMA's contract staff, Street Sweepers generated issue last year, we even had a situation where some of them stormed our office to complain about their remuneration, the Commissioner for Information whom I reached out to, did clarified the matter then, what are you doing to ensure they are adequately remunerated as at when due?
When I resumed office last year, we had a situation which I don't want to call a challenge, but an opportunity to look into our sweeping department as a whole, we've done a lot of reforms, part of the reform was the audit to know who's what, who's doing what, what's been done, are they been paid the right amount? And also, to catch up with the arrears of payments at that point in time.
As we speak now, we are in June, sweepers were well paid for May salaries and their June salary is going to be paid timely too. We have moved away from the days of arrears, so their salaries are now paid on time, we designed welfare package for them, now they enjoy free medical care, we have an insurance policy that cover them. We have looked into their health and safety, changed their uniform to lemon green that motorists can see them from distant of 10 meters away, it gladdens me to report that we've not recorded any accident of knockdown since we changed their uniform to lemon-green. Historically, when they used the orange colour we recorded average of 6 to 7 fatalities yearly. As an agency we need to be proactive to mitigate against any unfortunate occurrence. So generally, the welfare of all our workers, both contract and regular staff are of paramount to us.
Thank you so much for your time, and in recognition of your agency's effort during the COVID-19 lockdown, LAWMA was available to carte away refuse and waste across the state, so on this note the Editorial Board of Lagos Panorama want to encourage you and your team with the Lagos Panorama SDG
Thank you so much Lagos Panorama, on behalf of Management and Staff of LAWMA we say a big thank you and this will definitely spur us to do more.
//End//